RDRN Broadcasters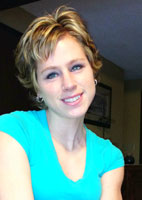 B. Cup Bomber I'm 31 years old and a native to Grand Rapids. Growing up, I liked almost every sport I tried but played soccer and was in diving. I moved away from the area after high school to attend college at Saint Cloud State University in St. Cloud where I majored in criminal justice. I left with a BA degree and focused on pursuing my my dream job as a MN Conservation Officer. In 2005, I was hired with the MN DNR (third generation Game Warden) and have since worked out of Cambridge, Duluth, and am currently in the Grand Rapids Station.

I never watched roller derby on television and had never seen it before until the Iron Range Maidens had their debut home bout in Grand Rapids at the IRA Civic Center. Love at first sight, that's what it was! I wanted to learn how to play and got started on seeking out how to get involved immediately. Having roots and ties with the community through work and growing up here, I already knew a few people on the team, but most were new faces. I attended a meeting for recruitment in August of 2011 and the question wasn't whether or not I wanted to play; it was where do I buy skates and when can I start hitting people! The rest is history.

Position: I play where ever I'm needed; jammer and blocker
Team: Attackonites (GRARDA) Parenting team is Iron Range Maidens
Experience: before derby, the last time I was on skates was when I was 12. GRARDA has a fresh meat program that is continuously evolving and allows skaters of every ability to develop and hone their skills.
Favorite derby moment: my first bout!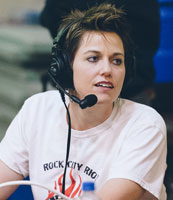 Kit E. Katastrophe Photo by Wes Bailey Kit E has been a die hard fan of roller derby since late 2010 when she began playing with the new team in town, the Iron Range Maidens. Kit E is currently on sabbatical to pursue some higher education, she misses it terribly and hopes to be back on the track soon!

When skating, Kit E wears the pivot panty...perhaps it's her bossy nature, but pivot suits her well. She will also take the jammer panty when needed.

Kit E has a good way of explaining things and can really break down the basics. A couple of good skills that served her well while coaching the Attackonites and training fresh meat. She hopes to bring her experience and explanation skills to the microphone in way that helps the listener understand this crazy sport we can't all help but love!